Monday, February 6, 2023
Hold My Miracle in Your Hands!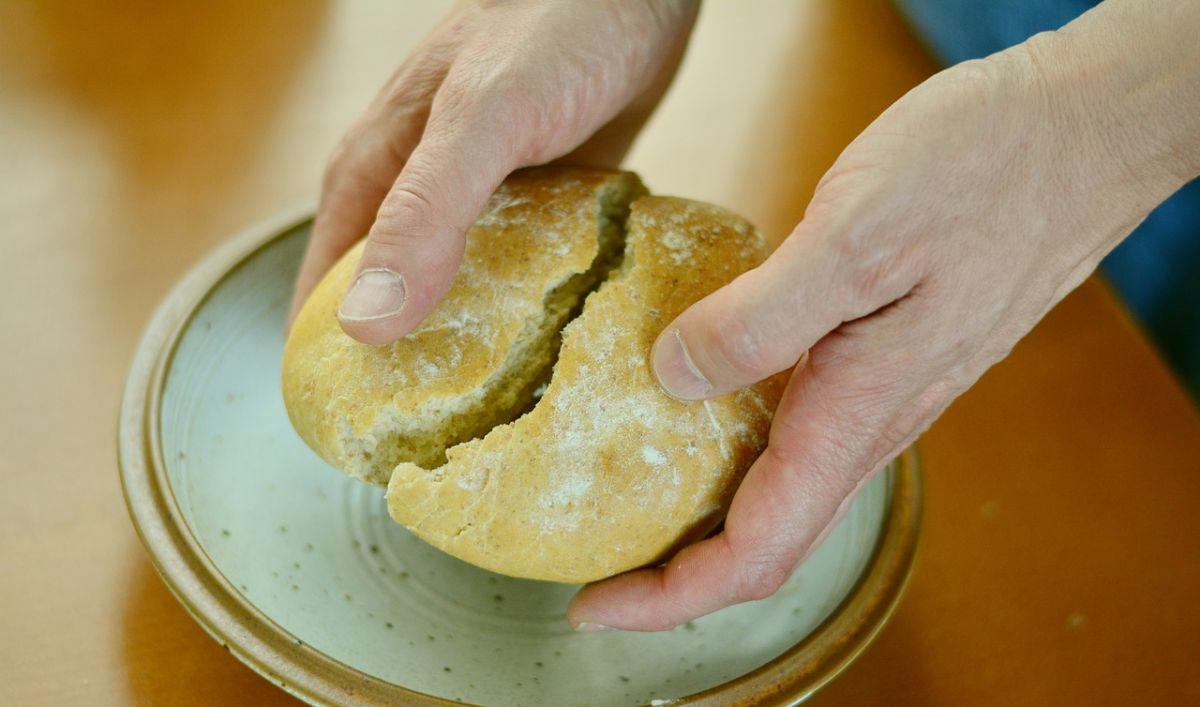 Note from Jesus
Dear Follower,
Before you read anything else, I want you to hear the ending of the verses below from the events leading up to and then the actual "feeding of the 5000":
Everyone eats. Everyone is satisfied. Nobody goes away hungry. In fact, when the disciples recover the leftovers, they have 12 baskets full of broken pieces.
There are many things you could focus upon in the verses below:
The ministry of My disciples to proclaim and demonstrate My good news.
Herod's fear of Me and curiosity about Me.
The confusion over My ministry and the ministry of John the Baptist.
My trying to get away from the crowds to be alone with My closest disciples.
The crowd's finding Me late in the day and needing a meal, so I feed them using only 5 loaves and 2 fish.
However, I want you to focus on two key things out of this series of events: the disciples' lack of faith and My sufficiency!
No matter how many great things My disciples had already done, they — like you — still had their doubts when faced with an overwhelming problem. And actually, I created the problem for them because I wanted them to learn this lesson just like I want you to learn this lesson (John 6:5-6). When they came running up to Me with their faithless solution for the problem of so many hungry and tired people, I gave them this command:
"You give them something to eat."
When they didn't get what I was trying to help them see, notice what I did and what things happened to open their eyes:
I gave them a plan.
I took their meager resources.
I asked the Father to bless those meager resources.
I broke the fish and the bread for them to serve to the people.
I had them distribute the food to organized and orderly groups of people.
Everyone ate and was satisfied.
There were 12 baskets full of leftovers, one for each of my doubting apostles.
They each got to hold My miracle in their own hands!
Years before, when a scared and shy Gideon didn't think he was up to the challenge of liberating Our people, the Father had told him to
"go in the strength that you have and save"
My people (Judges 6:14 NIV). I was basically telling My disciples the same thing:
You only have 5 loaves and 2 fish. No big deal. You have Me! You have faith! You've already done great things to bless people. So bring what you have to Me and let Me make it sufficient. Go in the strength and with the resources you have and discover what you can do with My blessing!
Now they didn't get the point at first, but they surely did after I blessed the fish and bread, told them how to distribute them, had them feed the crowd, and then had them pick up the leftovers! They held My miracle in their hands!
So what's it going to take with you? When you are faced with monumental opportunities too big for you to meet, will you bring what you have to Me? Will you go in the strength that you have and trust that I can make you sufficient? Will you get to hold My miracle in your hands?
Verses to Live
The following events come together to form a powerful story. It's the see-saw of My disciples' faith: they do great things, they face a greater challenge and doubt, I step in, and then they experience the power of God at work in them to do more than they could have imagined. But, for you, let's avoid the see-saw: believe that I can make your efforts for the Kingdom sufficient as you trust Me and do what I ask of you!
The disciples left on their journeys from village to village. They preached the good news, and they healed the sick everywhere they went.

Their mission didn't go unnoticed. The local official installed by Rome, Herod, was especially anxious about the news because rumors were flying. Some people said that Elijah or one of the other ancient prophets had been resurrected, while others said that John, famous for his ritual cleansing, was alive and preaching again.

Herod:

I am the one who beheaded John. So Who is this man Who is causing such a stir?

Herod was curious about Jesus and wanted to see Him.

The emissaries whom Jesus had sent out returned, and Jesus took them away from the crowds for a time of retreat in a city called Bethsaida. They gave Jesus a full report of their accomplishments and experiences. But soon the crowds discovered where they were and pursued Him. Jesus didn't turn them away; He welcomed them, spoke of the kingdom of God to them, and brought health to those who needed healing.

Picture what happened while in Bethsaida, where Jesus and His disciples were spending time with the crowds:

The sun is low in the sky, and soon it will be dusk. The twelve come to Jesus with advice.

Disciples:

Send the crowd away so they can find lodging and food in the nearby villages and countryside. We're out here in the middle of nowhere.

Jesus:

No. You give them something to eat.

Disciples:

Are You kidding? There are at least 5,000 men here, not to mention women and children. All we have are five loaves and two fish. The only way we could provide for them would be to go to a nearby city and buy cartloads of food. That would cost a small fortune.

Jesus:

Just do this: organize them in little communities of about 50 people each and have them sit down.

They do what Jesus says, and soon groups of 50 are scattered across the landscape.

Then Jesus takes the five loaves and two fish, and He looks up to heaven. He praises God for the food, takes each item, and breaks it into fragments. Then He gives fragments to the twelve disciples and tells them to distribute the food to the crowd.

Everyone eats. Everyone is satisfied. Nobody goes away hungry. In fact, when the disciples recover the leftovers, they have 12 baskets full of broken pieces.
(Luke 9:6-17)
Response in Prayer
Father, I face an uphill battle to make a difference in my world for Your glory and for the growth of Your people. I need Your grace to strengthen my faith and courage to launch out with that faith, leaving the results of my efforts and the sufficiency of my resources to Your power. So please help me, dear Lord I pray, to have more faith and courage to serve in the strength that I have! In Jesus' name, I pray. Amen.