The Good Shepherd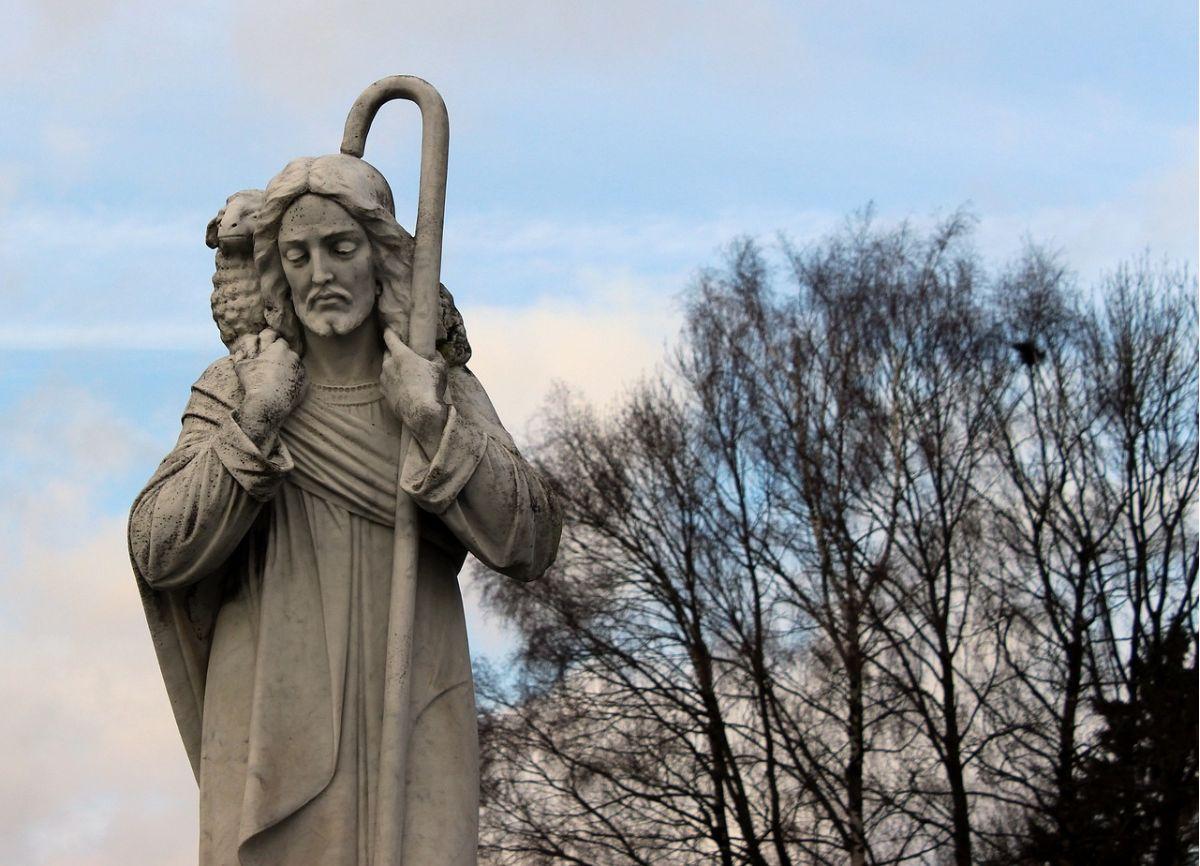 Note from Jesus
Dear Precious One,
Few passages of Scripture were more beloved in My time on earth than the twenty-third Psalm. Like in your day, many found great comfort knowing that the Great Shepherd was watching over them, caring for them, sustaining them, giving them rest, and bringing them safely home to Him:
The Lord is my shepherd; I shall not want.
He makes me lie down in green pastures.
He leads me beside still waters.
He restores my soul.

He leads me in paths of righteousness
for his name's sake.
Even though I walk through the valley
of the shadow of death,
I will fear no evil,
for you are with me;
your rod and your staff,
they comfort me.

You prepare a table before me
in the presence of my enemies;
you anoint my head with oil;
my cup overflows.

Surely goodness and mercy shall follow me
all the days of my life,
and I shall dwell in the house of the Lord
forever.
(Psalm 23:1-6 ESV)
So when I claim to be the
"good shepherd"
in the verses below, my words are heard against the background of the twenty-third Psalm. At the same time, My words about being the
"good shepherd"
are speaking on several different levels of emphasis. Each level is important. Each conveys a powerful truth about Me — My identity, My power, and My sacrifice.
First, by claiming to be the
"good shepherd,"
I AM claiming to be God, the Shepherd of the twenty-third Psalm! Clearly this was offensive to many faithful Jews for whom the Shepherd Psalm was precious and personal while God was high, exalted, and beyond compare — not some carpenter they thought was from Nazareth. That was why some accused Me of being a
"raving maniac"
!
Second, notice the specific personal knowledge that I have of My sheep and they have of Me. I know them. I call them by name. They hear My voice and recognize Me. They follow Me. They don't trust a stranger because they know My voice, and I lead by going out ahead of them and calling them by name.
Third, there were bad shepherds among My people. I called them
"hired hands"
as well as
"thieves and robbers"
! They were bad shepherds like the ones described by the prophet Ezekiel (Ezekiel 34:1-31). The religious leaders who were so opposed to Me knew I was talking about them as the bad shepherds. I knew that they were about to reject Me completely.
Fourth, I laid down My life for the life of My sheep. In going to the cross willingly, I laid down My life to give life to My flock. No one could take My life from Me, but I laid it down because I love My sheep, and I want to honor the Father. But, when I laid My life down, I would also
"take it up again"
— I have the power to rise from the dead!
A list, however, of the things I taught cannot compare with Who I AM and what it means for Me to be your Shepherd. As wonderful and precious as the words
"The Lord is my shepherd..."
may be to you, please recognize and feel the great love I have for you as your Shepherd. The twenty-third Psalm takes on so much deeper meaning when you truly understand that I AM your
"good shepherd"
: that I brought you everything promised in the twenty-third Psalm and everything promised in My words below. On top of everything else, I offered up My life to show you that My words are true, and My love and My shepherding are real.
Verses to Live
Take all the wonderful promises of the twenty-third Psalm and add all the incredible promises you find in My words below and know that these promises, that My comforting and guiding presence, are yours!
Jesus:

I tell you the truth: the man who crawls through the fence of the sheep pen, rather than walking through the gate, is a thief or a vandal. The shepherd walks openly through the entrance. The guard who is posted to protect the sheep opens the gate for the shepherd, and the sheep hear his voice. He calls his own sheep by name and leads them out. When all the sheep have been gathered, he walks on ahead of them; and they follow him because they know his voice. The sheep would not be willing to follow a stranger; they run because they do not know the voice of a stranger.

Jesus explained a profound truth through this metaphor, but they did not understand His teaching. So He explained further.

Jesus:

I tell you the truth: I am the gate of the sheep. All who approached the sheep before Me came as thieves and robbers, and the sheep did not listen to their voices. I am the gate; whoever enters through Me will be liberated, will go in and go out, and will find pastures. The thief approaches with malicious intent, looking to steal, slaughter, and destroy; I came to give life with joy and abundance.

I am the good shepherd. The good shepherd lays down His life for the sheep in His care. The hired hand is not like the shepherd caring for His own sheep. When a wolf attacks, snatching and scattering the sheep, he runs for his life, leaving them defenseless. The hired hand runs because he works only for wages and does not care for the sheep. I am the good shepherd; I know My sheep, and My sheep know Me. As the Father knows Me, I know the Father; I will give My life for the sheep. There are many more sheep than you can see here, and I will bring them as well. They will hear My voice, and the flock will be united. One flock. One shepherd. The Father loves Me because I am willing to lay down My life — but I will take it up again. My life cannot be taken away by anybody else; I am giving it of My own free will. My authority allows Me to give My life and to take it again. All this has been commanded by My Father.

When He spoke these words, some of the Jews began to argue.

Many Jews:

He has a demon and is a raving maniac. Why are you people listening to Him?

Other Jews:

No demon-possessed man ever spoke like this. Do demons give sight to the blind?

(John 10:1-21)
Response in Prayer
O God — Father, Son, and Spirit — shepherd me. I promise to listen to Your voice. I pledge to follow no other spiritual guide but You. In Jesus' name, I pray. Amen.